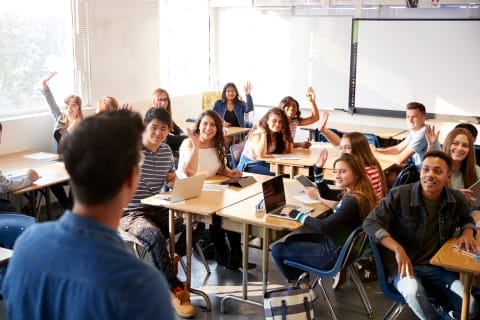 Did you know that any exercise can become an Emergenetics®-centric activity? I would guess some readers out there may be thinking: Of course it can…once it's been vetted through the template and adjusted to speak to each of the seven Attributes.
That is true. By working through the Emergenetics metaphor, educators can make changes to lesson plans, team building events and even homework so the experiences speak to every preference and boost engagement.
There is also another way to "Emergeneticize" classroom or staff activities. In this second option, educators can simply lead a brief follow-up conversation to help participants gain valuable insights.
A Refresher on Debriefing
Oxford Languages defines a debrief as: a series of questions about a completed mission or undertaking. While that may sound a bit serious, the concept can apply any time people take part in some sort of lesson or event. Creating a sequence of thought starters for your colleagues and/or students to reflect on their experiences can inspire new learnings through the lens of the Attributes.
A Simple Way to Emergeneticize Activities
Emergenetics can easily be woven into debriefs by having participants respond to a few prompts designed to consider the Thinking and Behavioral Attributes. Some of those questions can include:
Did you enjoy the activity? Why or why not?
How did your strengths come to life during the exercise?
How did your preferences show up?
What energized you about the experience?
What felt scratchy?
How did you work through the discomfort to complete the task?
Did you notice you were flexing into different Attributes during the lesson? How did that process go for you?
(If in a group) How did the team work together? What was successful and where did you feel challenged?
Try asking a couple of prompts after different activities or projects to get the group talking about their learnings. As connections to the Attributes are being made, take time to reinforce those revelations, so staff and students can recognize how their Profiles and Youth Reports are showing up every day.
When conducting the debriefs, it's also important to honor both first- and third-third Expressive participants. Mix up the methodology by offering opportunities for individuals to write down their responses first, submit answers on a virtual document, have a one-on-one conversation or engage in a group dialogue.
The Impact of Reflection
When educators and students participate in discussion around the Emergenetics Attributes, they have a chance to develop important social emotional skills as well as enhance classroom and school culture.
Social Emotional Skill Building
As youth and adults consider actions, tasks and projects through the lens of their strengths, it empowers them to build greater self-awareness. Participants can strengthen agency and perseverance by understanding the different needs of each preference and recognizing what sorts of circumstances or factors will allow them to be more successful in the future. Also, individuals expand social awareness by learning more about how their classmates and colleagues prefer to take part in projects or engage in work.
Culture and Climate Building
By regularly making connections to the Attributes, the language of Emergenetics can be better integrated into the school's culture and inspire a positive shift in its climate. As people express their opinions and experiences, it's easier to understand the perspectives of others and learn how to honor those differing needs, which can help build an environment where each person feels heard and valued.
Simple debriefing exercises can be a powerful way to enhance the work that educators are already doing. By creating a balance between designing activities that speak to every preference as well as encouraging students and adults to reflect on their strengths and interests, educational leaders can create an environment of self-awareness and understanding.
Want to use STEP to improve your school environment? Learn more about our offerings as well as Celebrate You(th): A Social Emotional Learning Curriculum. Or, fill out the form below to speak with one of our staff members today!

Print This Post