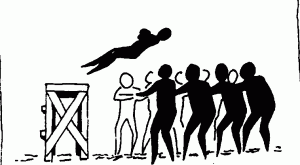 We're one week into 2011…and chances are you're either energized and ready to start the year off with a bang or you're trying to figure out how to keep momentum going from the holiday hangover. In any case, now is an opportunity to view your work with fresh eyes. And that means viewing your co-workers, team members and performance goals with new eyes too.
Team building exercises can be a highly effective way to kickstart your goals and objectives and to solidify the direction that you want to see. In this kind of economy though, team building needs to equate to clear benefits. There can't just be trustfalls and silly games.
Why…because that isn't building anything…it's a fun day that doesn't mean anything after 5 p.m. According to the Harvard Business Review, team building needs to accomplish three main objectives:
Address real-world issues
Account for different styles and preferences
Be tailored to your needs by a skilled facilitator
The second bullet point is where I want to concentrate. By nature, a team is made up of diverse personalities and skill sets (and this is a good thing – as noted in management blog, Suite 101– According to studies, in deep-level diversity (diversity of thought as opposed to gender, race, etc.), the informational diversity or the differences in knowledge contribute positive results to the performance), but it also means that exercises must not just address differences, but capitalize on them. Take a look at the Emergenetics team building exercise below that showcases how diverse teams can experience a new kind of knowledge:
The Emergenetics Most-Preferred Attribute Exercise
Using Emergenetics Profiles, you can group teams according to the Thinking Attribute that each person most favors. In an ideal team, you'd have a mix of all four Thinking Attributes (Analytical, Structural, Social and Conceptual) and people who get energy from each.
Format: Have each of the MPA groups (or in tables) brainstorm the definition of an assigned word that is pertinent to your team or business situation (like Trust, Communication, Performance, etc.). Have each group present their ideas and definitions to the large group.
Time: Give groups will have 10 minutes to brainstorm and then each group will be able to present their ideas.
Debrief: Discuss the implications of the differences in the definitions. Discuss how these unconscious differences in meaning between the 4 quadrants can have an impact on the assigned word/example as well as on other key issues the team is facing including communication, conflict, etc.
Key Insights: The key to the MPA Exercise is getting participants to understand how easily (nearly) any topic can be described through the 7 Emergenetics Attributes. You will also want to stress early learning on making the leap from the hypothetical situation of an MPA Exercise to real-life situations that are occurring in their team (such as miscommunication between team members or misunderstandings around roles, work, etc.)
For more information on how Emergenetics works in teams, take a look at our employee development workshops and team building solutions or contact us.

Print This Post