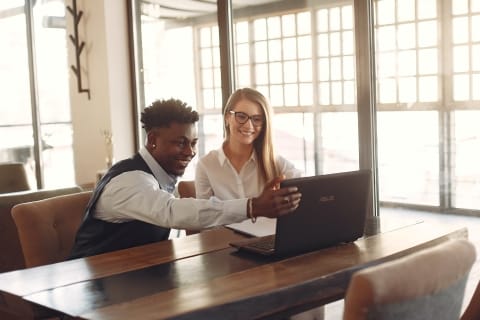 With the rise of hybrid teams, it is absolutely essential that employees stay connected. In the past, individuals were often working in the same place and could easily meet in person to address a challenge, share ideas or simply catch up. Through frequent interactions, they naturally had opportunities to get to know each other as people and professionals, contributing to positive, productive relationships.
As the workplace continues to evolve, staff are likely to be working at different times from different locations, which may cause them to lose out on some of those organic moments. If the group isn't made up of strong communicators and collaborators, the shift could also inhibit their dynamics and ultimately, their success. One study even found that when people feel isolated, productivity can decrease by 21%.
These potential challenges do not mean that you should abandon a hybrid model, especially with the benefits that come from working remotely. My take is that it's a prime opportunity for leaders and managers to be intentional about team building.
Why It's Important to Invest in Team Building
While it can have a bit of a negative reputation as being unnecessary or potentially silly, team building serves an important purpose. By taking time to get to know one another, employees can gain a greater understanding of their coworkers and develop more empathy for each other.
Group events help people gain insights into the ways their colleagues prefer to work and encourage cooperation, which can support more effective collaboration and communication. When individuals feel a strong sense of community, you may also see benefits to productivity and retention.
As coworkers spend less time together in person, groups will need to be mindful about creating opportunities for bonding to reap the benefits that come from connection. Sometimes, it can feel like a challenge to identify an experience that everyone will love, which is probably why so many articles exist that share ideas to increase cohesion.
While I strongly encourage you to find some creative ideas for your gatherings, one of the most important steps to meaningful team building is to set up each of your activities so that all participants recognize its value and can feel engaged.
Seven Tips to Set a Positive Tone for Your Group Event
Whenever you kick off an exercise or gathering, use these first four recommendations to help staff feel more invested in creating cohesion.
1. Explain the purpose.
Identifying target outcomes and the reason why you are putting time into a particular event can help individuals understand its value.
2. Identify day-to-day impacts.
Make sure to discuss some of the practical implications of your session so that coworkers can recognize an immediate benefit to participating.
3. Celebrate opportunities for connection.
In addition to pointing out the purpose and benefits, share how colleagues will get to collaborate or what they can learn about one another.
4. Imagine the possibilities.
Whether teams will be discovering something new or thinking outside of the box, describe how the exercise can inspire a fresh change in perspective or practices.
Consider the next three recommendations as a balancing act. You may find activities that allow you to accomplish each idea at once, or you may need to include a mix of offerings so that you support all employees needs holistically.
5. Provide opportunities to talk and listen.
Be sure that the experiences you deliver give participants a chance to think independently and engage verbally with others.
6. Be mindful of competition.
Some of your colleagues may enjoy a fast-paced contest while others may prefer a steady tempo where everyone can participate harmoniously. Find a balance to support employees.
7. Include options.
While some events that you host may require mandatory participation to help staff align with one another, offer others that are optional so individuals can choose when and how to engage.
Three Emergenetics® Ideas to Enhance Team Building
There are a host of great ways you can use Emergenetics as a focal point or support to team unity. Below are three ideas to inspire your planning.
Host a Virtual Meeting of the Minds
When it comes to effective team building, our Meeting of the Minds workshop has something for every member of your hybrid group. It has a compelling purpose in that it supports professional development while helping attendees gain practical strategies to improve communication and collaboration. It's also a fun experience with unique activities that inspire new ways of thinking and opportunities to engage with others.
Use Emergenetics Warmups
Available on Emergenetics+ to anyone with a Profile, the meeting warmups range from 10 to 30 minutes and can be conducted over Zoom and/or in person. Colleagues can use them to learn more about one another's preferred Attributes and how they may show up in the workplace. The exercises also come with tips to set the activities up, debrief them and make sure they run smoothly.
Assemble Cognitively Diverse Groups
By pairing people who approach work differently, you can open up mindsets, reveal complementary strengths and help people appreciate the unique perspectives of their coworkers. Using Emergenetics, you can easily group individuals with different preferences to enhance this sort of learning.
For more ideas on how to use Emergenetics in your gatherings, explore my post on virtual meeting activities.
While the type of activities you engage in are important, what's most essential is to help staff buy into the experience of bonding by explaining the purpose and possible outcomes. In doing so, your colleagues can strengthen their connections, improve their working relationships and be more productive no matter where they are working from.
Discover how Emergenetics can help your organization operate more effectively from any type of workplace or fill out the form below to speak with one of our staff members today!

Print This Post