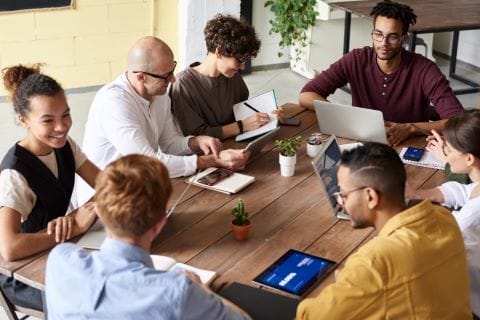 Reading the news these days, it seems like you can't get away from the headlines about artificial intelligence and the rise of robots in our office spaces. And, yet, when I think about 2020 and what companies are really focusing on, I believe it will be the year of the employee.
In the United States, our business leaders have historically been known for putting shareholder value first and prioritizing the bottom line over everything else. Yet, in August of 2019, a number of America's top CEOs had something different to say.
The Business Roundtable, which consists of leaders from some of the world's largest corporations, including Wal-Mart, JPMorgan Chase, Oracle, PwC, Pfizer, Visa and more, declared that corporations no longer exist solely to produce profits for shareholders.
They recognized the need to balance that mandate with serving employees, customers, suppliers, communities and the environment.
Within the context of employees, the Business Roundtable committed to:
Investing in our employees. This starts with compensating them fairly and providing important benefits. It also includes supporting them through training and education that help develop new skills for a rapidly changing world. We foster diversity and inclusion, dignity and respect.
In the middle of a technological revolution and its potential and uncertainty, we are seeing that business leaders are not running away from human connection – they are turning toward it.
They are shifting their focus to identify ways they can better support employees and build communities inside and outside of their organization.
As companies commit to prioritizing employee education, growth and engagement, Talent Development, Talent Management and Human Resources (HR) teams will play an even more integral role in organizations than they have in the past.
In fact, 94 percent of HR leaders anticipate a shift in HR from managing systems to truly being people focused over the next three to five years.
With these changing attitudes in business, how can you direct your programs to help your company fulfill its purpose and better support employees?
I have five recommendations to kick off the year and bring an employee focus to your initiatives.
Make 2020 the Year of the Employee
1. Conduct an analysis on employee satisfaction and engagement.
If you aren't already conducting employee surveys, now is a good time to start. Ask staff to rate their overall engagement and share their sentiments about the programs you've introduced, such as performance management or wellness initiatives, as well as those you're considering creating. I'd encourage you to ask questions about the topics presented in the Business Roundtable's purpose statement, including:
Compensation
Benefits and wellness
Development and growth
Skill building for the future
Diversity and inclusion
Respect and dignity
2. Identify relevant themes.
After receiving feedback from employees, compile the data and sort the input into larger themes or sentiments. Consider themes that describe areas of Talent Development or Human Resources that may need attention as well as ones that are going well. As you seek to boost employee engagement, it's important that you keep an eye on what is working in addition to what can be improved.
3. Assess the potential impact.
You will likely have several potential areas of focus based on the themes you've identified. As you work to prioritize your list and make a difference in 2020, consider the potential value that could come from each of the themes.
What areas will have the most positive impact on your employees?
What will best support your business needs and objectives?
What costs are associated with these programs?
By identifying what could have the highest impact, you can better prioritize your programs.
4. Determine quick wins as well as medium- and long-term efforts.
Once you've identified your initiatives for 2020 that you expect to deliver high value, identify near- and long-term programs. By creating a balance, you can start to gain some traction in the first half of the year with quick wins while building towards larger shifts in employee satisfaction with programs you can actualize over the course of the year.
5. Evaluate successes and opportunities for improvement.
Don't wait for your 2021 engagement survey to start the evaluation process. Solicit informal feedback from employees or consider using brief surveys to get the pulse of employees and understand their experiences as you implement programs. Encouraging regular feedback will help you see what is working as well as what shifts you need to make to help your employees feel valued.
As more organizations recognize that an essential part of their purpose is to create an environment where employees thrive and succeed, the work of HR, Learning & Development and Talent Management teams will only become more important.
By bringing attention and focus to the initiatives that deliver the most value to your employees, you can positively impact the success of your organization and help your company fulfill its purpose.
As you consider your employee training programs, prepare employees for the future of work and create a culture that values diversity and appreciation for all staff, the Emergenetics team is here to help. Fill out the form below to connect with us about your goals for this year and discover how our programs can support you.

Print This Post