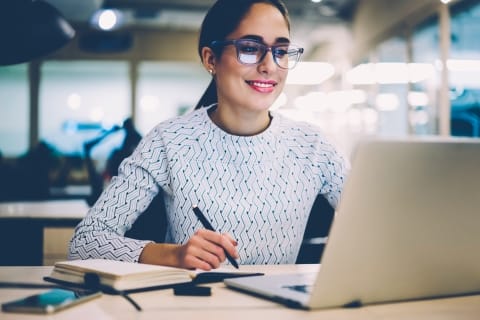 I've had the opportunity to lead a lot of Emergenetics® workshops in my time with the organization, and it's always so motivating to see the enthusiasm of our attendees. When people leave our experiences, I get so many questions about how they can use their new insights about themselves and one another to improve their work and the workplace.
While we will continue to deliver supplemental workshops, team activities, templates and our mobile app to support ongoing development, I'm excited that we have added a new collection of self-directed digital learning courses, available now in The egLearning Library.
These programs can be delivered to anyone who has an Emergenetics Profile and has attended one of our introductory learning experiences – even if it's been years. That's the gift that comes from having reliable, consistent results!
Through the 20-minute virtual learnings, individuals further their understanding of the Attributes and gain ways to apply their learnings in the workplace to improve individual and team performance. Organizations benefit from sustainable employee development that has a positive impact on communication, productivity and engagement.
While each eLearning delivers practical takeaways for learners to immediately put their knowledge into action, Emergenetics Associates also have access to our companion guides, which provide activities that can be used in one-on-one coaching or team sessions to easily reinforce the discoveries in each digital experience.
Our first four courses are available now, and we look forward to adding more to our catalog in the future. Below, you can learn a little more about the skills employees stand to gain from the offerings.
Ignite Your Preferences
Emergenetics can empower anyone to connect, communicate and collaborate with greater empathy and understanding. This course illuminates the brilliances and common misconceptions of each Attribute, expanding self-awareness and understanding of how a person's preferences may influence their work and interactions with others.
When to use it: The course is a great next step after any introductory Emergenetics experience. It can also be useful for individual contributors or teams who may be experiencing conflict and miscommunication.
Learn to Flex: Behave to Improve Rapport
A person's behavioral preferences are often the first Attributes that are observed by their colleagues. Using five common behavioral combinations, this course helps a learner increase their understanding of the spectrums of Expressiveness, Assertiveness and Flexibility as well as supports skill building in flexing to improve teamwork and productivity.
When to use it: The program can be a great fit to expand emotional intelligence around the Behavioral Attributes. It can also be helpful for individuals and teams who are seeking to improve communication, collaboration and problem solving with individuals or groups.
Learn to Flex: Thinking to Build Connection
Great minds don't always think alike! Cognitive diversity is a leading contributor to a team's ability to innovate and problem solve, so it is important to understand and value alternative perspectives. This course will improve a learner's ability to make connections with the Analytical, Structural, Social and Conceptual Attributes, to reap the benefits of diversity of thought.
When to use it: Using the lens of the Least Preferred Attribute, this course strengthens understanding of the Thinking Attributes as well as advances collaboration. The curriculum provides new tactics for people seeking to enhance trust, results or team dynamics using Emergenetics.
Cultivating Culture Through the Language of Grace
In previous blogs, I've shared how important it is to use positivity to construct an environment where employees feel inspired to perform. Words play a powerful role in shaping our working relationships and environments. When an organization uses a shared, positive language, employees can elevate their communication skills. This course connects the power of positivity to elements of Emergenetics to reshape your workplace's vocabulary as well as staff interactions to inspire and motivate one another.
When to use it: The offering is particularly beneficial for companies seeking to strengthen their culture and boost psychological safety. It can also be useful for managers and teams that are experiencing performance or motivation challenges.
Our new learning experiences empower anyone with an Emergenetics Profile to better use their strengths, appreciate the differences in others and apply the Attributes to work positively and productively with their colleagues. Using Emergenetics as a cornerstone, companies can solidify the foundation of an inclusive, engaging and motivating workplace.
Learn more about The egLearning Library or fill out the form below to speak with one of our team members directly!

Print This Post