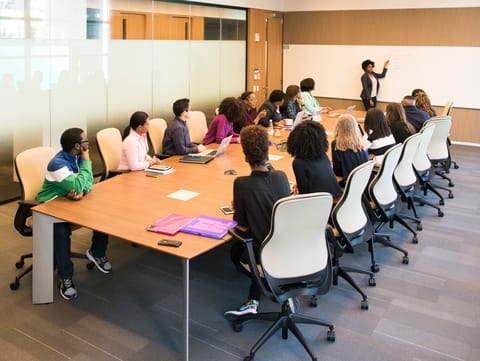 Think back to the last time you were evaluating a training program or a broader learning and development solution to support your managers, teams or employees. What were your top decision-making criteria?
According to a Trust Radius study, before investing in a product or service, buyers tend to prioritize these three things:
Measurable results
Adaptability
Speedy adoption
These criteria make sense. After all, you want to be able to measure your success, have a solution that can be adapted to your needs and invest in something that will be readily embraced by employees.
Yet, something surprising happens after a purchase. That same study showed that after we buy a product, priorities often change. Their research revealed that the top concerns of buyers' post-purchase became:
Adaptability
Scalability
Measurable results
Scalability, a consideration that was listed as the fifth consideration prior to purchase, suddenly pops up to number two.
As we invest in products, services and programs, it's important that we put time into understanding how they are going to scale with our organizations. Otherwise, we may disappoint our future selves.
Why should Learning & Development teams consider sustainability and scalability in their programming?
Intuitively, it makes sense that as we identify training solutions to build employees' skills, drive greater performance and support positive organizational cultures, we should look for solutions that will grow with our company.
Aside from intuition, scalability also impacts your financials. Whenever we introduce a new learning and development solution, there are often hard costs associated with it, including facilitation fees, materials, assessments, certifications and technology.
One-off programs that lack staying power can be quite the investment. We can better manage our hard costs over time – and get a better return on our investment in the long run – when we look at programs that will be beneficial for years to come.
When we consider soft costs, like employee time, sustainability and scalability also matter. Employees are actively interested in development opportunities.
In fact, an IBM study showed that employees who feel they cannot develop in their organization are 12 times more likely to leave the company.
Still, not all development opportunities are equal.
One-off training programs can be challenging and frustrating to employees. If they aren't given opportunities to be reminded of their training and practice what they learn over time, employees have a harder time implementing any takeaways, making them feel as though they may have wasted their time.
Five questions to determine if the Learning and Development solution you're evaluating is scalable and sustainable
As you identify learning and development solutions and training programs, I encourage you to spend some time asking potential partners these five questions.
1. How have you scaled your solutions at other organizations?
To envision what a training program could look like within your company, it can be helpful to understand how other organizations of a similar size or industry have expanded this solution. The answer to this question can also help you uncover whether your potential partner can truly scale their programs or if they are providing one-off solutions.
2. How do you help your clients plan for the long-term?
This question dives into the tools, resources or support your potential partner provides to help you scale and sustain your programs. For example, in addition to building multi-year solutions, at Emergenetics® we've created a relationship management team to help our clients implement long-term visions.
3. What solutions and resources do you have to empower us to self-sustain this program?
Having an outside team to help your organization is important. And for cost efficiencies and day-to-day support for your employees, it's also important to consider how you can own the expansion of the program internally.
As an example, our Certification programs enable in-house employees to become Emergenetics Associates so that they can lead workshops and grow their Emergenetics programs without hiring outside facilitators. And, resources like our Emergenetics+ app and job aids empower workshop participants with free resources to expand their knowledge and application of Emergenetics.
4. Can your solutions easily integrate with existing programs?
Learning about opportunities or limitations with integration can help you identify synergies as well as potential roadblocks to address before they become an issue. Consider how the solution may integrate with technology systems and how the programs could support existing programs and workshops you offer.
For example, in a recent Q&A, one of our Associates shared how he has integrated Emergenetics with different leadership and change models.
5. Do you offer programming for all levels of my organization?
While you may prioritize one or two internal audiences to start, it can be helpful to consider the long-term applications of your programming. Ask your potential partners whether they have workshops and solutions that support individual contributors, managers, executives and teams to ensure you have your bases covered when you expand the training offerings.
While scaling and sustaining your programs may not be your number one when choosing a potential learning and development partner, taking time up front to think through these considerations will help you better weigh your options and identify the best solution for your needs.
And, if nothing else, when you make scalability an essential part of your decision-making criteria, your future self will thank you!
Interested in learning how Emergenetics can scale in your company? Fill out the form below to connect with our team.

Print This Post