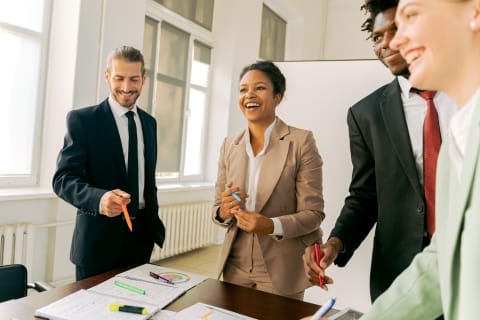 Most leaders know that employee engagement is a vital ingredient to amplifying productivity and increasing retention. What they may not realize is that a sense of belonging is one of the strongest drivers of engagement.
Intuitively, people likely understand why acceptance and inclusion are so important. When individuals feel aligned to their work and embraced by their coworkers, it stands to reason that they would be more motivated to contribute. The research backs this theory up, with high belonging being linked to a 56% increase in job performance and a 50% drop in turnover risk.
While there are many factors that impact the level of connection employees experience at their organization, as an Emergenetics® Associate, you can enhance alignment using the tools you have access to from your Certification program and on the Emergenetics+ portal.
5 Ways Emergenetics Can Influence Belonging
#1 – Define What Belonging Looks Like
While there are standard definitions, people are likely to have different takes on what sorts of actions enable them to be more connected to their work and colleagues. For example, someone with an Analytical preference may feel more appreciated if the company values their expertise, while someone with a Conceptual preference may feel affinity when they believe their ideas are heard.
To uncover these varying needs, host a Most Preferred Attribute (MPA) activity with the team(s) you are working with. Group members according to their Thinking preferences and ask them to describe what actions help them feel valued. Then, repeat the exercise with the thirds for each Behavioral Attribute. Having these insights will give employees clarity into what it means to build community with their colleagues.
#2 – Explore Potential Biases Through the Attributes
People are often unaware of the preconceived notions or misconceptions they have about the Emergenetics Attributes. Those undercurrents can make it challenging for colleagues to be their authentic selves and know that they are respected, which may negatively impact their sense of belonging. Using Emergenetics, encourage staff to identify and evaluate their predispositions.
Share the Brainwork Made Easy handout with the team(s) you are partnering with. Ask them to review the column titled "Be Mindful of Bias" for the Attributes that are out of preference. If trust is relatively strong within the team, invite staff to engage in a conversation about whether any of the sentiments in that column have crossed their minds. If that discussion will push the group too far beyond their comfort level, suggest that individuals take a few notes about their thoughts. Then, challenge them to pick a strategy they will put into practice to address biases and appreciate every person's preferences.
#3 – Review Group Profiles and Dot Graphs
By exploring a team's Combined Group Profiles, you can shed light on some of their innate tendencies and overarching preferences. Using the Dot Graph, help coworkers take note of how everyone's preferred Thinking and Behavioral Attributes align and vary from the combined Profile as well as contribute to group dynamics.
Facilitate a conversation to empower teams to recognize what situational factors may make them more inclined to lean into shared Attributes and potentially overlook the important contributions of colleagues who have different strengths. You can also work with the group to determine action steps to embrace the perspectives of each of their coworkers. One way to do so is to encourage WEboarding during brainstorming or planning sessions. Using a blank Emergenetics template, teams can plot their collective inputs into each Attribute to make sure each point of view is considered.
#4 – Engage Staff with the Platinum Rule and i2i Activities
To promote connection, people need to believe that their managers and colleagues care about who they are and value their inputs. Through our post-workshop activities, available in Emergenetics+, employees get practice learning how to flex into the preferences of others, which demonstrates their commitment to building effective and positive working relationships.
After an Emergenetics workshop, introduce participants to the Platinum Rule activity, which asks individuals to reflect on a time when they needed to adapt their communication to achieve a better outcome. In the i2i exercise, you can pair people up so they can identify ways to improve how they give feedback, motivate and recognize each other, and more! I recommend starting with mid-dyad pairings before moving on to unlike-dyads to spark greater learning. By sharing out the findings from the activities and receiving feedback, coworkers feel more understood and appreciated.
#5 – Boost Social Interactions
Feeling connected with colleagues builds camaraderie, which can also have positive impacts on engagement. You can help staff get to know one another by partnering employees for formal mentorship experiences or just creating opportunities for individuals to gather informally, such as through a virtual coffee, a lunch or an activity of their choosing.
Lean into the Emergenetics Attributes to bolster these activities. Using participating staff's Profiles, you can create groups with similar preferences, unlike preferences or a mix. Each of these combinations offers chances for learning, alignment and growth. For more details on how to choose your partnerships, read this blog.
While strengthening bonds and promoting acceptance is not an overnight process, you can support and encourage belonging by using Emergenetics. When you empower employees to value cognitive diversity and the perspectives of their teammates, you will inspire greater understanding and mutual appreciation.
Discover how Emergenetics improves employee engagement by clicking here or filling out the form below to speak with one of our team members today.

Print This Post