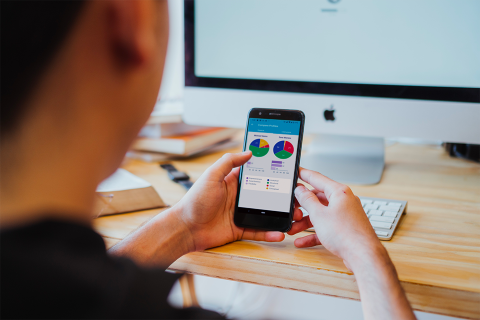 One of my favorite things as an Emergenetics® Master Associate is to lead workshops and watch my participants' eyes light up as they discover how they and their colleagues prefer to think and behave. I can see in their expressions and reflections that they are making so many connections to the possibilities and applications that come from understanding the Profiles of their team members.
I also know that even the most enthusiastic attendees may need a few reminders to apply the Attributes after they leave the workshop. That's where the Emergenetics+ mobile app comes in.
Just last month we released an updated version (available on the App Store and Google Play), and it's free for anyone with an Emergenetics Profile. The app helps our users utilize Emergenetics day-to-day, so they get even more value out of our programs.
To empower you and your colleagues to apply what you've learned in your sessions, I'm excited to share six scenarios where using the Emergenetics+ app can help you make the most of your workplace interactions.
#1 – Preparing for a One-on-One Meeting
Before you meet with your manager, direct report or colleague, connect with them on the Emergenetics+ app and take a look at their Profile. Compare your Profiles to understand similarities and differences in the ways you prefer to think and behave. You can explore the tailored communication and interaction tips in the Comparison section to uncover strategies that empower you to easily match rapport.
#2 – Welcoming a New Team Member
Whether a new person is joining a short-term project or your department, use our app to create a Saved Group and update your members as your team changes. Review each person's Profile and the Group Summary to understand the makeup of the team. By examining the combined Profile, you get a sense of the way the unit prefers to operate. You can identify similarities and discover the unique brilliances that each person brings to the group.
#3 – Finding Efficiency When Projects Stall
If you find that a project you are working on isn't running as smoothly as you would expect, the Emergenetics+ app can be a useful resource to evaluate your approach. Using the Group Summary and Saved Group features, explore the communication and interaction tips that are personalized to the preferences of your team to optimize collaboration. I also encourage you to look at the Considerations section to understand if there are any perspectives that may be missing from your unit, which could hamper productivity.

#4 – Building a Project Team
When you kick off an initiative, you may have a few team members already in mind. By using the app to learn about your initial grouping, you find tips to balance dynamics by identifying Attributes that may be underrepresented. With this insight, you can invite additional colleagues to join the project to create cognitively diverse teams, which tend to be more effective at problem solving.
#5 – Leading a Meeting
Create a Group Summary of your meeting participants and delve into the Library of resources before you get together. The Summary provides insights into how the team prefers to think and behave, which can give you ideas to better tailor your presentation to their interests. Within the Library tab, use our Attributes in Action guides to learn:
How to Present to the Emergenetics Attributes
How to Run a Successful Meeting
These resources offer more specific tactics that draw on the Emergenetics Attributes to help you succeed.
#6 – Giving Feedback
Whether you are working with a teammate, a direct report or a manager, you will likely have opportunities to give positive and constructive feedback. Utilizing the suggestions from scenario #1, view the individual's Profile and explore tips to adjust your communication style to minimize intent-impact gaps. I also invite you to use the following Attributes in Action guides available in your Library to guide your approach:
How to Communicate to the Emergenetics Attributes
How to Give Feedback
How to Receive Feedback from a Supervisor (this resource helps you anticipate the potential reactions of whomever you are delivering feedback to)
There are so many ways to use Emergenetics to improve relationships and enhance efficiency in your day-to-day work. While the ideas above are just a small sample of the resources and applications we offer, I hope they inspire you with new ideas to work even more productively and positively with your team members.
If you haven't downloaded the app and want to get started, check out our video below:
Interested in learning more about how Emergenetics can enhance your work? Discover our solutions for organizations and teams or connect with one of our staff members directly by filling out the form below.

Print This Post